>>The Most Complete Line of Commercial and Industrial Grade Battery Chargers
Flooded and sealed lead acid batteries, nickel metal hydride NiMH, lithium chemistries -— for all types of battery powered equipment, lift trucks, electric vehicles, and stationary applications.

MAC is an OEM manufacturer dedicated to providing high quality electrical power conversion products. As a leading supplier,
we offer:
Industrial Chargers
Commercial Chargers
Stationary Chargers
Valve Regulated Chargers
Portable Chargers
Built In Chargers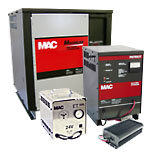 Let MAC design to meet your needs.
With over 50 years of experience, we have the knowledge and capability to provide solutions to your demanding applications.