>>Powerful, Efficient, High
Torque Motors with Integrated Electronics
Applications include electric vehicle, battery powered equipment, medical transporation, automotive, pumps, air moving, HVAC, floor care.
MAC
is an OEM manufacturer of brushless motors and controls. As a leading supplier,
we offer
Innovative system solutions
Advanced patented technology
Custom designs
Extraordinary value
Our products are used in:
Commercial/ Industrial Applications
Battery Powered Equipmen
Electric Vehicles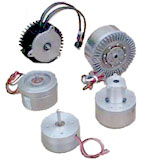 Let MAC
help put your ideas in motion.